Cannot Import from Clipboard in Actuals or Opening Balances
Issue:

I have exported my actual figures to Excel using "Export to Clipboard", have made changes in Excel and copied the excel figures to my clipboard but now the Import option is not available.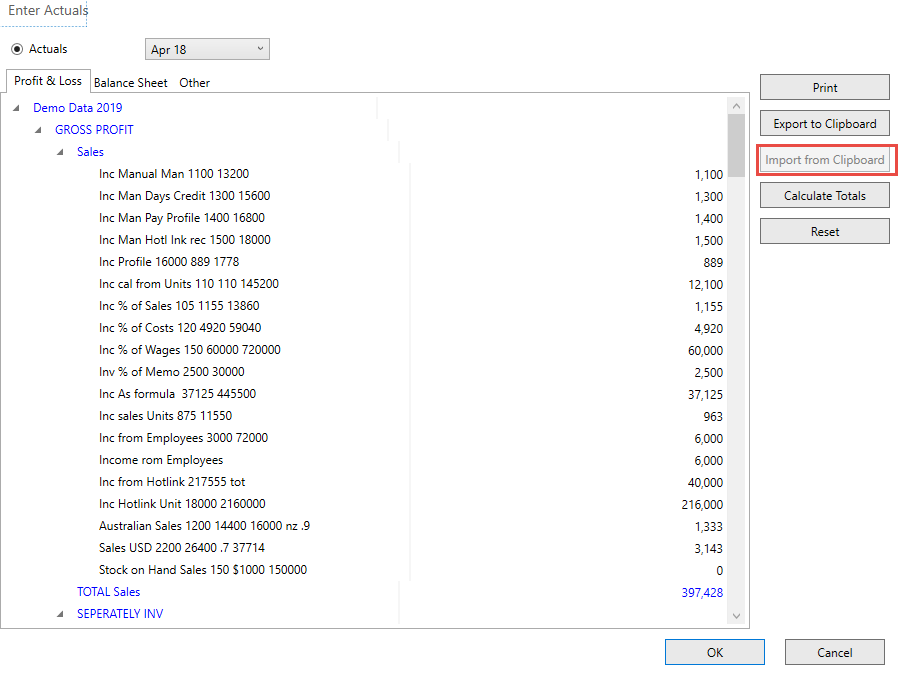 Cause:

If you forecast name is entirely made up of numbers or has unusual characters, e.g. * , -

This can cause Forecast 5 confusion on what to import.

Solution:

Temporarily rename your forecast to something plain, e.g. Test, and complete the import.

Note: the heading of your excel copy must match the forecast name:


Related Articles

Removing Prior Year Data When In Actuals

Run the balance sheet for the year BEFORE you want your actuals to begin and export to excel. Why? This will be used to update your opening balances. Export all the reports for the year you want the forecast to start for comparison. Reset to No ...

Opening Balance: Loan Opening Balance Won't Save

Issue / Problem: When in the Enter Opening balances screen, the Loan opening balance will not save: Solution: You must enter the Opening Balance of the loan in the loan record:

Xero Integration - Actuals not importing

Issue: When trying to import your Actuals into Forecast 5 using the Xero integration, some or all figures are not pulling through. Cause: This could be due to lack of connection or locked accounts. Solution: 1. Check that you have re-established the ...

SQLException: Cannot insert the value NULL into column

Issue: When importing or copying a forecast, you are are getting the following error: SqlException Cannot insert the value NULL into column 'InputDataBase', table 'Forecast52020.dbo.InputData'; column does not allow nulls. INSERT fails. The statement ...

Record List Import - Wages importing negative

Issue: When using the Record List import to bring in your data from Excel, the wages records are importing as negative values. Solution: Until a permanent solution is found, follow the steps below: 1. Enter 0 in the set all box of each wages record. ...