How to factor in goodwill
The creation and amortisation of goodwill is now available for consolidations.
The process uses the record type of Other fixed Asset.

Steps:

In the parent forecast, under Fixed Asset, add a new Other Fixed Asset record called "shares" , this records the value spent on the shares of the subsidiary.


In the consolidation, click Goodwill from the consolidation menu and the screen will display the other fixed asset records on the left.




Then you select the subsidiary that is that investment and the net asset value, then the goodwill value is displayed.




We then eliminate the value of the asset against the investment the difference being recorded as goodwill.




A new record is added to the system records. This can then be amortised (depreciated) at a rate or manually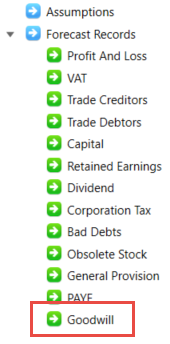 Related Articles

How To: Apply a salary increase

Here are 4 ways to factor in a salary increase, either company wide or individually. Option 1 - Company wide From Settings > Payroll Tables & Options > Bonus tab, apply the wage increase, e.g. 10%, to all wages records by changing bonuses from 100 to ...

Forecast 5 Record Types and Descriptions

Types of Record Forecast 5 provides a variety of types of record, each tailored to a specific requirement. For example, the information that must be entered about income is quite different from that entered about a financed asset. Sales Record Types ...

Forecast 5 Support Policy

The annual subscription includes the provision of support to an end user, access to the online training videos, continued use of the product and access to updates and releases. You have access to the Forecast 5 Knowledge Base, available ...

My Balance Sheet is out of balance / my reports are wrong

Issue: My balance sheet is out of balance or my reports are not showing the correct figures. This can also be for consolidations. Cause: Sometimes this can occur with the calculations have not been properly refreshed. Solution: 1. Under Utilities, ...

Using Reset to No Actual's

The Reset to No Actuals feature is designed to make the next year budget easier. This works by saving your actuals as the budget figures to then allow to you extend the budget into next year using these figures as the basis for extend and amend. ...