How To Manually Activate Forecast 5
1. From the Forecast 5 Activation screen, select Manual Activation: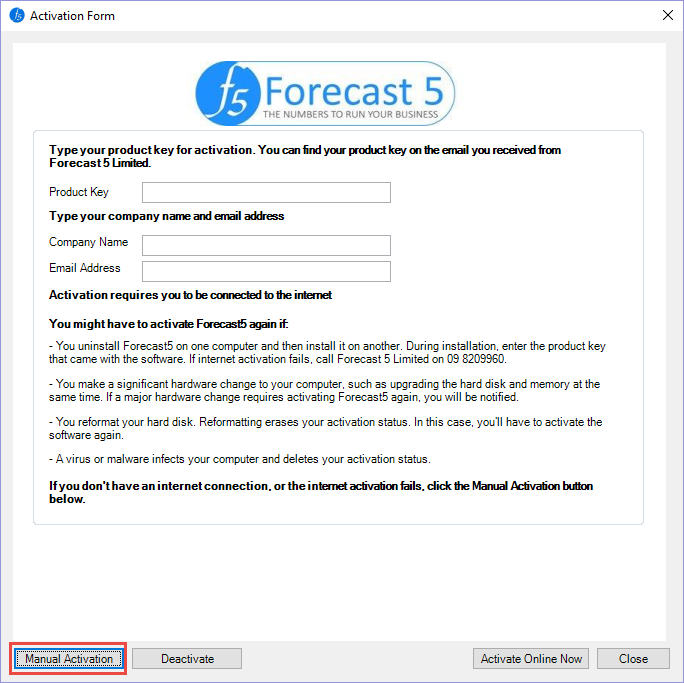 2. Fill in Product Key and Company Name and select Generate File: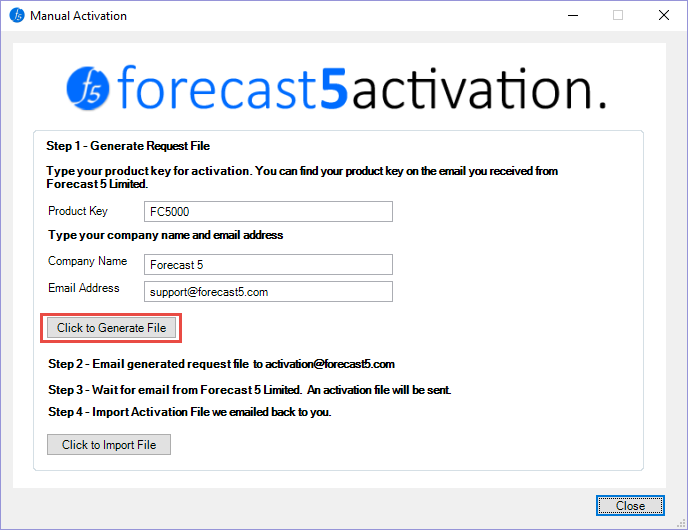 3. Send your activation file to activation@forecast5.com and we will send you back an activated file. Save this file to your desktop or an ease to find location.
Note: The manual activation is not an automated process so can take some time for a response.
4. Click Import File and browse to the location of the activated file we've sent you, select it and click OK.
5. Your license should now register successfully.
Related Articles

Unable To Activate License Manually or Online - Access Denied

Issue: When trying to activate online or manually, you are receiving a access denied message to the following path: C:\ProgramData\Forecast5 Solution: Ensure that you have administrative permissions on your PC. If the license still fails, go to the ...

Activating Forecast 5

Activating Your Forecast 5 License Once your copy of Forecast 5 has been installed, you will then need to activate your license. 1)Open Forecast 5. You should be prompted to license Forecast 5 upon opening. 2)If not, go to Help > Licensing. 3)Upon ...

Using Forecast Status

We have recently introduced a forecast status for Admin Pack users. This allows the owner of a forecast to define the status of a forecast; Editable = Anything can be changed in the forecast. Budget Entry = Only numbers can be entered (settings and ...

Forecast 5 User Guide

Contents Activating Your Forecast 5 License ........................................................................................................3 Having Trouble Activating Your Forecast 5 License? ...

Forecast 5 Demo Data

Downloaded and installed Forecast 5 and you aren't sure where to start? We have provided a demo data forecast that will help you see most of the features and benefits that Forecast 5 has to offer. Download the attached demo data (found at the bottom ...