Xero Integration - Actuals not importing
Issue:

When trying to import your Actuals into Forecast 5 using the Xero integration, some or all figures are not pulling through.

Cause:

This could be due to lack of connection or locked accounts.

Solution:

1. Check that you have re-established the connection to Xero.

2. Check that your Xero settings have not locked the dates you are trying to import from:

- Login to Xero

- Go to Settings > Advanced Settings > Financial Settings

- Under Lock Dates, check that the lock dates are not after the date you are tying to import: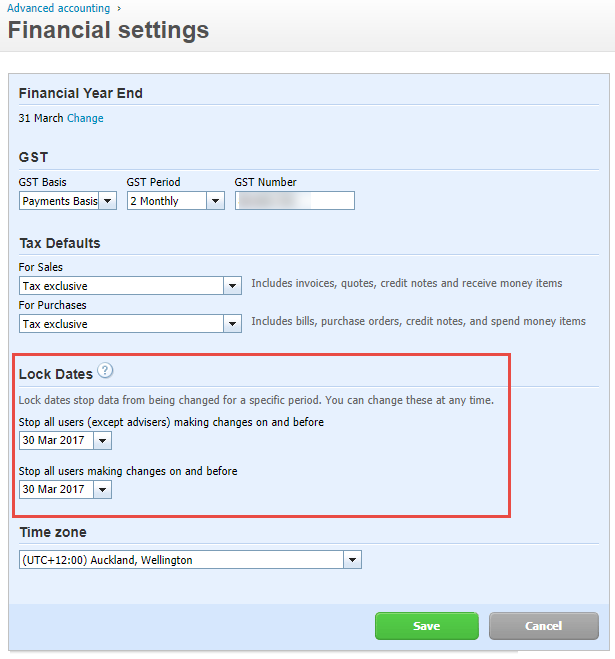 Related Articles

Xero Integration Error: Returned Empty Data

Issue: I receive an error message when trying to connect to Xero using the new Auth. Cause: This could be caused by the port being used by another application, therefore preventing the connection from establishing and Forecast 5 from getting the ...

Xero Integration Error: Method Not Found

Issue: Connection to Xero is OK, but when clicking the import data button an error is reported: Solution: Uninstall and reinstall Forecast 5.

Xero Integration to Forecast 5 Guide

From Xero to Budgeting Hero! ​ The integration* process will effectively create a budget from your Xero companies historical data, enabling you to prepare next year's budgets, import Opening Balances and Actuals with a click of a button and extract ...

Removing Prior Year Data When In Actuals

Run the balance sheet for the year BEFORE you want your actuals to begin and export to excel. Why? This will be used to update your opening balances. Export all the reports for the year you want the forecast to start for comparison. Reset to No ...

Record List Import - Wages importing negative

Issue: When using the Record List import to bring in your data from Excel, the wages records are importing as negative values. Solution: Until a permanent solution is found, follow the steps below: 1. Enter 0 in the set all box of each wages record. ...